shaq
The service robot

SHAQ

Moving Parts:
Head, Neck, Mouth

Integrated
Full HD Camera

Moving Parts:
Shoulders, Elbows

Moving Parts:
Body

Moving Parts:
Hands, Fingers

Microphones

11" Touch Screen

Speakers

Stationary Platform

Meet shaq
Service robot Shaq is an AI stationary service robot replicating the human body and behavior. His multiple talents and sophisticated human-like design make him a reliable partner in advertising, entertainment, education, caregiving, and many other niches, both commercial and non-commercial.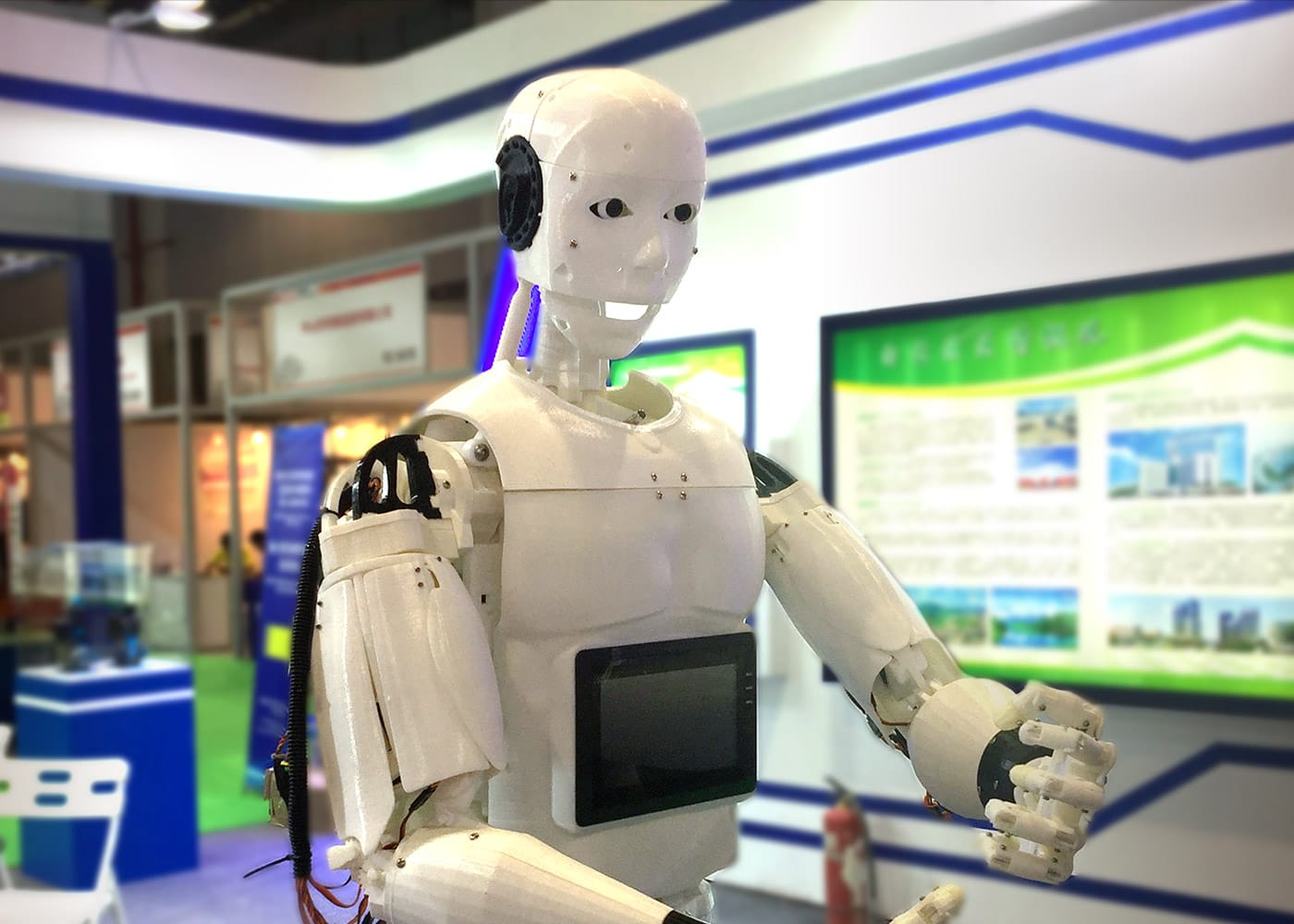 Service robot Shaq is Mirax Robot's one of the latest technological masterpieces. It has a high degree of independence. It can be programmed to fulfill various tasks, including through voice commands. Standing on a stationary platform, Shaq is still extremely flexible and interactive when it comes to interaction with people. It has a movable head, neck, arms, and fingers and can boast 27 degrees of freedom of movement. Moreover, it moves its jaw when speaking!
Built of highly resistant plastic and metal, the robot is extremely durable and can be exploited for years without failure. Shaq features an 11-inch touch screen and a user-friendly multilingual interface. It works on the base of Android OS and can easily be integrated with various third-party applications to perform an array of designated tasks. For example, it can initiate a web search, collect data, fill forms, play audio or video content, place orders online and what's most amazing, Shaq can multitask!
Thanks to highly sensitive microphones and advanced language processing and face recognition systems, Shaq deciphers human speech with over 98% precision. Understanding voice commands, Shaq carries out complex tasks, ensuring fast and flexible responses in real-time, as well as personalized service for each guest. Moreover, it memorizes faces, returns greetings, and addresses people by their names, providing an amazing experience of interaction.
Shaq weighs 37 kg. (77,2 lb.) and has a height of 1,78 m. (5,84 ft.) - a true athlete! His ultra-realistic and alluring appearance leaves no one indifferent. Not only does he provide value by automating many repetitive and tedious tasks, but also takes the guests' breath away with incredibly intelligent performance.
This service robot's remarkable talents make him a great asset for various industries. Shaq is perfectly fit for both indoor and outdoor environments and suitable for all audiences, regardless of age, gender, background, and preferences. Shaq's presence at any event will ensure screaming success and a memorable experience for the visitors.
Opting for this cutting-edge service robot, you will make the most of the latest technologies and positively influence your brand's identity in the market. Additionally, you will reduce human effort and significantly raise business productivity.
shaq's
specifications
Height / weight
1,78 m / 35 kg
5.84 ft / 77.2 lb
Movements
27 Degrees of Freedom
Charging type
Stationary Robot
Coloring
Any Color Available
operating system
Android
Boost your business with Shaq
Leave a request and get more information about this outstanding model!