kai
The service robot

KAI

LED Face

Integrated
Full HD Camera

POS: CC Reader
& Receipt Printer

LIDAR Navigation

Non-Slip Rubber
Wheels

Microphones

22" Full-HD
Touch Screen

Speakers

Ultrasonic Sensors

Meet kai
The humanoid service robot from Mirax Robots with the artistic name Kai can be used in the most unexpected qualities and industries. Its elegant and minimalistic design, performance speed, and rich functionality make it an invaluable asset for any business.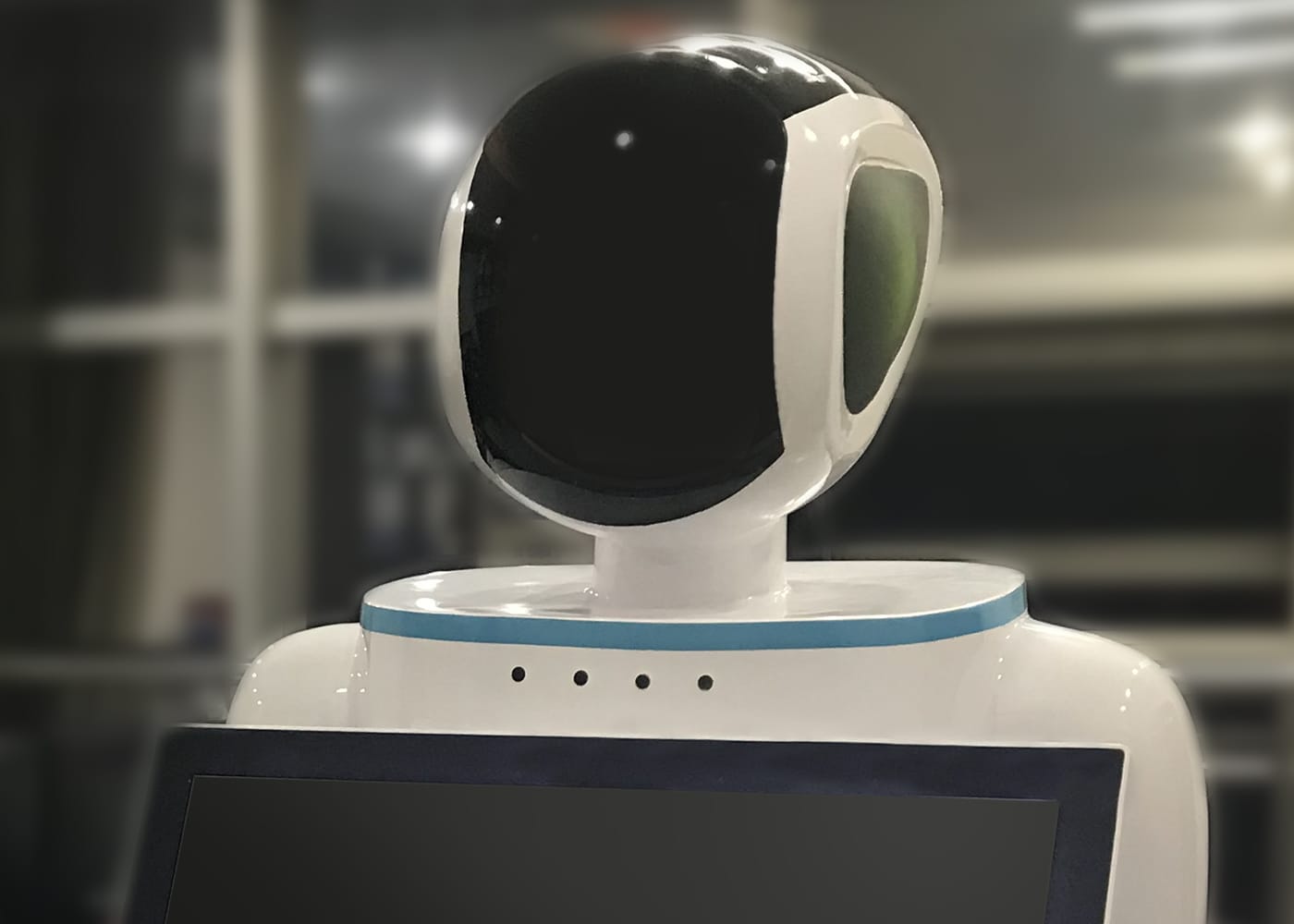 The service robot Kai is an engineering project that demonstrates the modern, current level of technology from different areas of technology combined in a single device.
Kai's body is made of high-quality metal combined with durable plastic processed with the latest technology. It is equipped with a 22-inch touch screen and an integrated full HD camera with a face recognition feature. The wide, high-resolution screen makes Kai a great choice for promotional events, as it can display any audio and video content in a compelling and illustrative way.
Thanks to the face recognition system based on AI, Kai remembers his visitors and addresses them by name, while the language processing feature helps the robot conduct a meaningful and, most importantly, personalized dialogue. Kai's face appears as an LED screen, and when illuminated, the robot can take on any appearance.
In addition to the wealth of functions Kai is able to perform, it can also accept payments, do online shopping, issue checks, and arrange for a live queue. All this is possible due to the integrated POS Terminal with a Credit Card Reader and Receipt Printer.
The highly efficient LIDAR pulse navigation system allows Kai to scan objects around it, calculate the distance to them and build an accurate map of the space. This provides greater freedom of movement and safety for both the robot itself and the surrounding people and space. Navigation accuracy is the same at any lighting level.
The laser sensors scan a distance of 25 m. (82 ft.) and are accurate to 2 mm. (0,08 in.). Kai travels on non-slippery rubber wheels with the main body being 70 mm. (2,75 in.) above ground level. This allows it to pass through obstacles without hitting anything in its path.
Agile and fast Kai is also very durable. It has a continuous operating time of over 7 hours, and once it runs out of power, the smart robot automatically connects to the charging station. Depending on your specific business goals, you can set operating and charging schedules to make the most of your robot's potential.
Like all Mirax service robots, Kai runs on Android and seamlessly combines with external applications that can be installed even without special technical know-how.
The settings are very easy to make, but if you encounter any difficulties, our team is there to help. We also provide User Manuals and Video Tutorials, as well as API/SDKs for Secondary development!
Kai can bring innovation into any business, brighten up a marketing campaign, improve brand awareness, impress and engage customers like nothing else. Besides, it can reduce operating costs and increase productivity.
kai's
specifications
Height / weight
1,6 m / 45 kg
5.25 ft / 99.2 lb
Ground clearance
70 mm
2.75 in
Charging type
Auto / Manual
Battery Life
>7 Hours
Coloring
Any Color Available
Charging time
4 Hours
operating system
Android
Boost your business with Kai
Leave a request and get more information about this outstanding model!