hugo
The restaurant robot
HUGO
Integrated
Full HD Camera

Speakers

LIDAR Navigation

LED Face

Microphones

11" Touch Screen

Tray

Ultrasonic Sensors

Non-Slip Rubber Wheels

Meet hugo
Restaurant robot Hugo is a friendly restaurant robot who will make your guests' visit to the restaurant a memorable experience. It has a modern appealing design and impresses with its performance. It can be used in canteens, food courts, cafes and restaurants, and other venues to serve food and drinks but also to entertain the guests.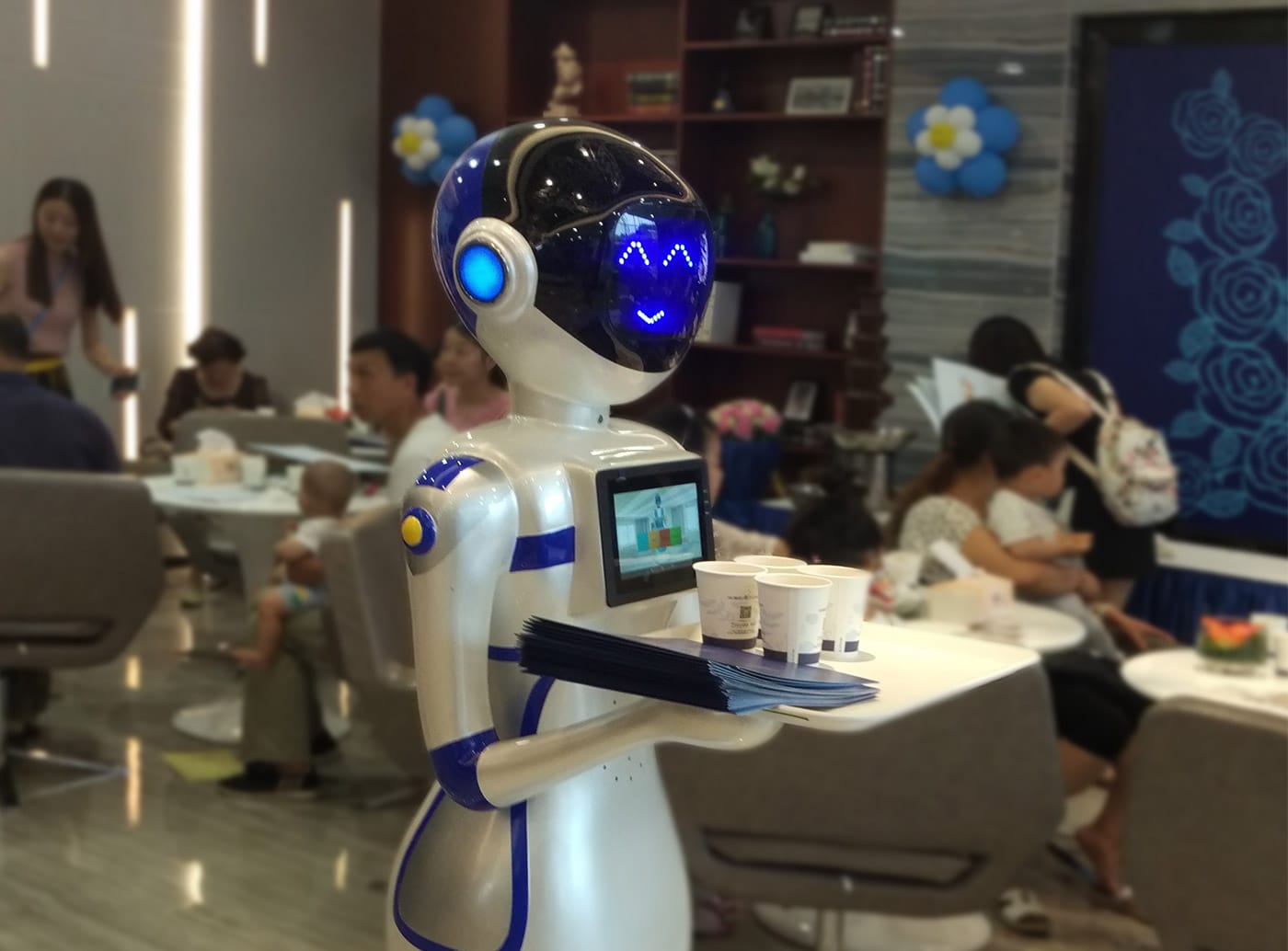 Hugo is a highly autonomous smart robot-server designed to parody human behavior and physical appearance. The robot has a LED face, with illuminated facial features when the robot is on duty. The robot-server is equipped with a high-resolution 11-inch touch display, with an option to illustrate the menu with images.
However, Hugo loves presenting the menu himself. You can upload custom dialogues, descriptions of dishes, expert advice on the best choices of the day, and much more. The bearing capacity reaches 20 kg. (44,1 lb.).
The integrated full HD camera and the super accurate facial recognition system enable the restaurant robot to identify the guests and make a personal greeting. With Hugo's language processing accuracy reaching over 98%, the multilingual restaurant assistant takes the fancy of adults and children alike, making them eager to come back.
Speaking about safety, Hugo can be a true role model in the industry. Through LIDAR remote sensing technology, it scans the surroundings in real-time, moving around safely on its flexible rubber wheels. 70 mm. (2,75 in.) above the floor level, it easily passes over small objects. Hugo's slender body is yet another advantage. 1.6 m. (5,25 ft.) tall, weighing 35 kg. (77,2 lb.), Hugo easily travels between tables and is a compact solution for small spaces.
Hugo's powerful battery allows him to work for over 7 hours without breaks. Once the battery needs recharging, it hurries to the charging station to come back fully charged after 4 hours. It is possible to set your custom charging schedule to have Hugo on duty during peak hours. Most restaurant owners prefer to set charging cycles to make the most of the robot assistant.
Hugo runs Android OS and operates seamlessly with external applications. The interface is extremely easy to use, so the settings require no special knowledge. In case of any issues, ongoing technical support is available.
Taking Hugo on board will bring multiple benefits for your staff and customers alike. It will save lots of human effort by automating many manual processes, streamlining the business operation, and enhancing your marketing efforts.
hugo's
specifications
Height / weight
1,6 m / 35 kg
5.25 ft / 77.2 lb
Ground clearance
70 mm
2.75 in
Charging type
Auto / Manual
Battery Life
>7 Hours
Trays
1 pieces
Bearing
10 kg
22 lb
Coloring
Any Color Available
Charging time
4 Hours
operating system
Android
Our restaurant robots
daben
Restaurant robot Daben is a magnificent robot with an unforgettable appearance that becomes the center of attention wherever he shows up!
Meet Daben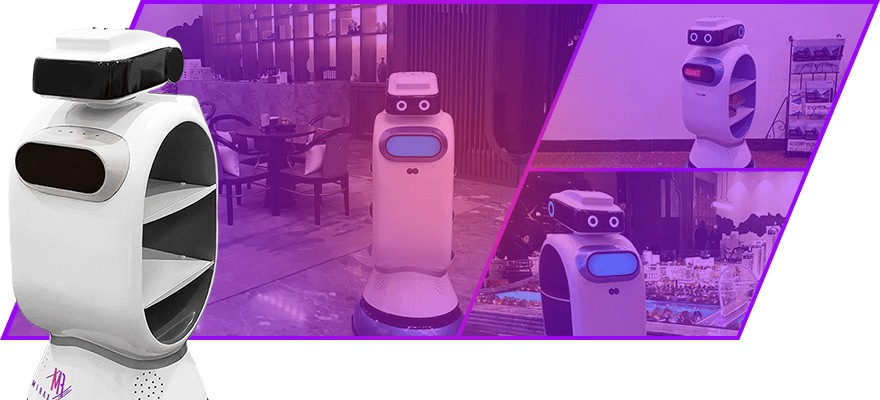 ben
Restaurant robot Ben is an autonomous robot that perfectly fits any business and is ready to assist non-stop in performing a wide range of tasks.
Meet Ben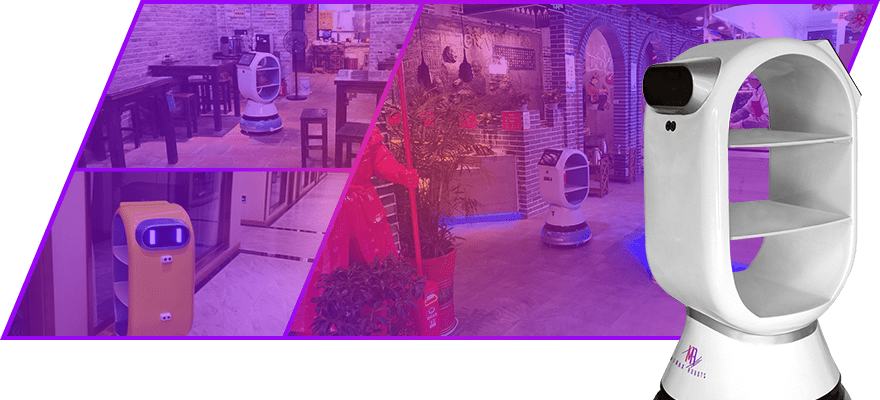 lea
Restaurant robot Lea is an attractive robot with a near-human appearance that is ready to serve you and your business unconditionally 24/7!
Meet Lea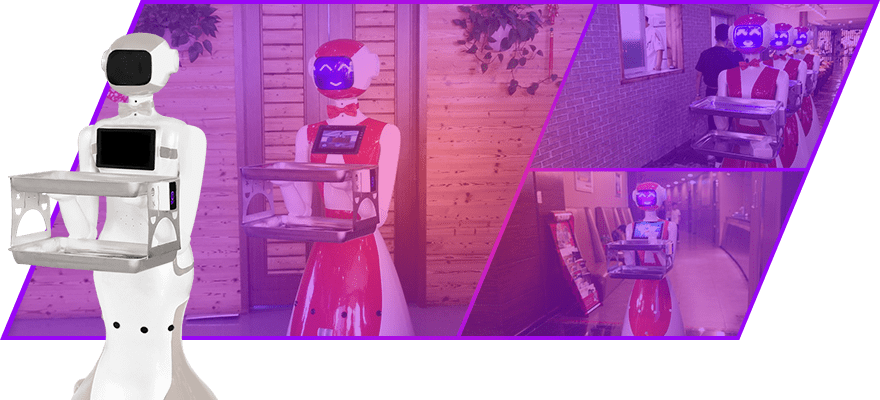 Boost your business with Hugo
Leave a request and get more information about this outstanding model!