sam-uv
The disinfection robot

SAM-UV

Integrated
Full HD Camera

11" Touch Screen

Main Disinfection Lamps

Speakers

LIDAR Navigation

Ultrasonic Sensors

Upper Disinfection Lamps

Microphones

LED Eyes

Non-Slip Rubber Wheels

Meet sam-uv
Disinfection robot Sam-UV is our top-notch disinfecting model. It operates independently ensuring a sterile environment wherever it is applied. It has a modern design and a rich set of features that can be customized according to special needs.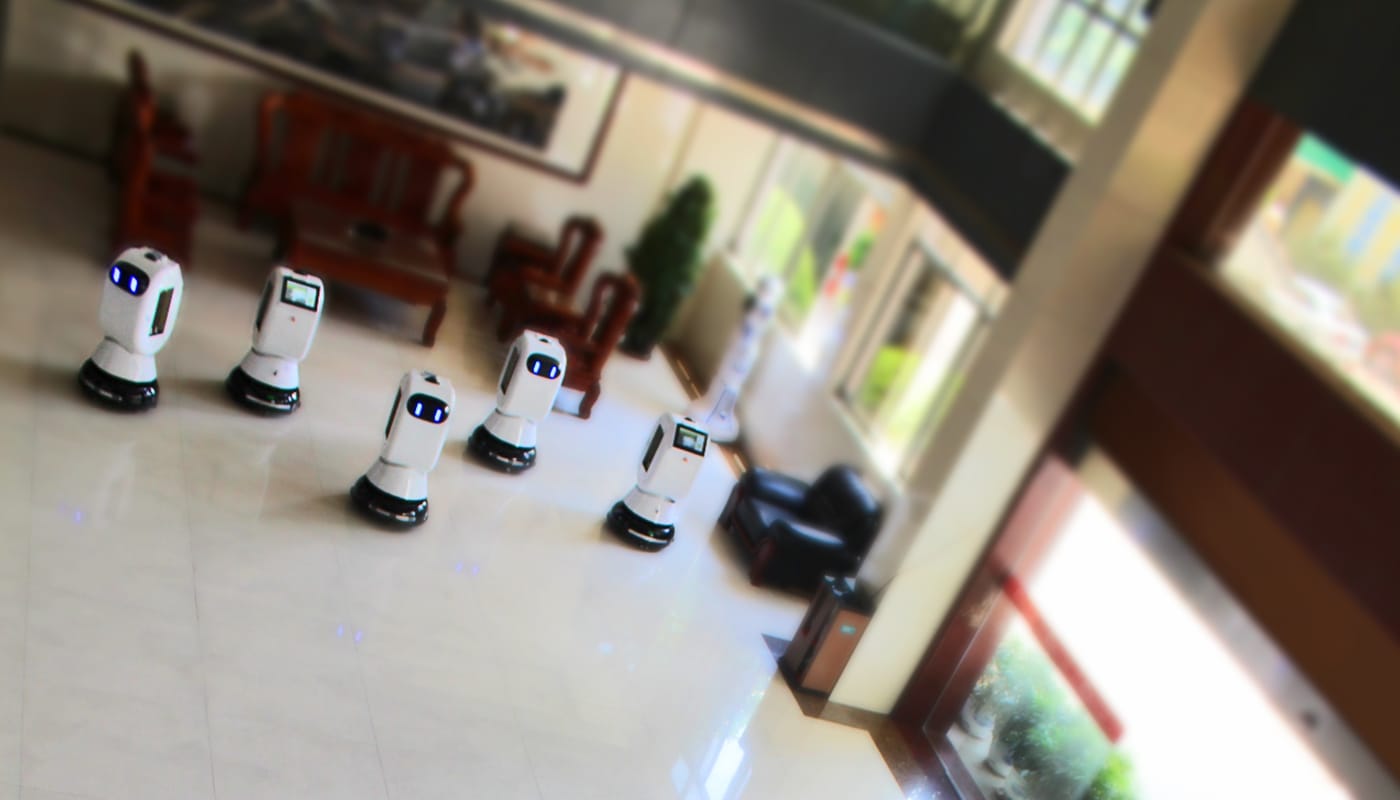 Sam-UV is an advanced germicidal solution that has come to revolutionize the healthcare industry. It has been designed to automate the tedious and time-consuming processes of disinfection. It is a perfect solution for hospitals, care facilities, laboratories, surgeries, beauty salons, but also any public spaces where lots of people are gathered in one place. It efficiently reduces microbial and viral contamination in crowded environments, which is an important factor considering the COVID-19 pandemic.
This intelligent disinfecting robot effectively eliminates pathogenic microorganisms from all kinds of surfaces. To do this, it uses advanced non-touch ozone technology. The UV lamps are placed inside and on top of the robot, allowing better access. The lamps are protected with a rack to avoid burning or other accidents.
The robot's continuous running time is around 4 hours, by the end of which it automatically connects to the charging station and resumes the work once fully charged. You may manually set your disinfection schedule, to adjust it to your working needs. For example, you may choose to set specific times for the disinfection of your office, considering the working hours of the employees. The cycles may be repeated or reset at any time. Additionally, you can receive notifications once a given area is fully disinfected.
Sam-UV ensures an all-around coverage with a disinfection radius of 6 m. (19,7 ft.). This makes him an absolute champion in terms of efficacy – 1,000 sq. m. (10,800 sq. ft.) in 2 hours, without dead corners.
Safety of the environment is ensured not only through disinfection but also through smart and secure navigation. To orient in space, Sam-UV is equipped with the LIDAR laser navigation system and a set of ultrasonic sensors. The rotating rubber wheels allow the robot to move noiselessly on any type of flooring.
The robot is also equipped with microphones, a full HD Camera, and a fully functional 11-inch touch display. Thus, disinfection is not Sam-UV's only priority. With the integrated facial recognition technology and language processing feature, it can also be a contemporary attraction for your visitors and boost your business reputation as an advocate of technological innovations.
With a number of obvious advantages over manual cleaning, Sam-UV can be a reliable tool for your business or personal needs.
sam-uv's
specifications
Height / weight
1,52 m / 35 kg
5 ft / 77.2 lb
Ground clearance
70 mm
2.75 in
Charging type
Auto / Manual
Battery Life
>4 Hours
Effectiveness
Disinfects 1,000 m² (10,800 ft²) in 2 Hours
Disinfection radius
6 m
19.7 ft
Disinfection method
UV + Ozone
All-round coverage
360°
Coloring
Any Color Available
Charging time
2 Hours
operating system
Android
Our disinfection robots
sam-
spray
Disinfection robot Sam-Spray is our most efficient robot sanitizer that uses Spray sterilization method and covers 1,000 sq. m. (10,800 sq. ft.) in only 15 minutes!
Meet Sam-Spray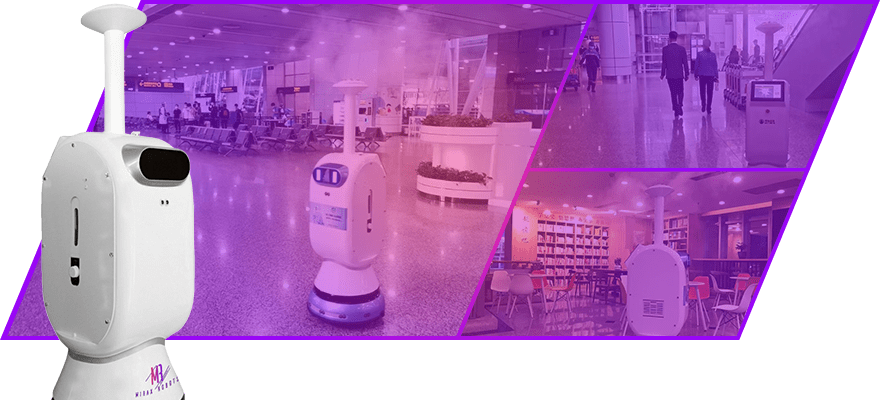 kit
Disinfection robot Kit is our efficient AI-driven UV+Ozone sanitizing robot with a stylish and innovative design.
Meet Kit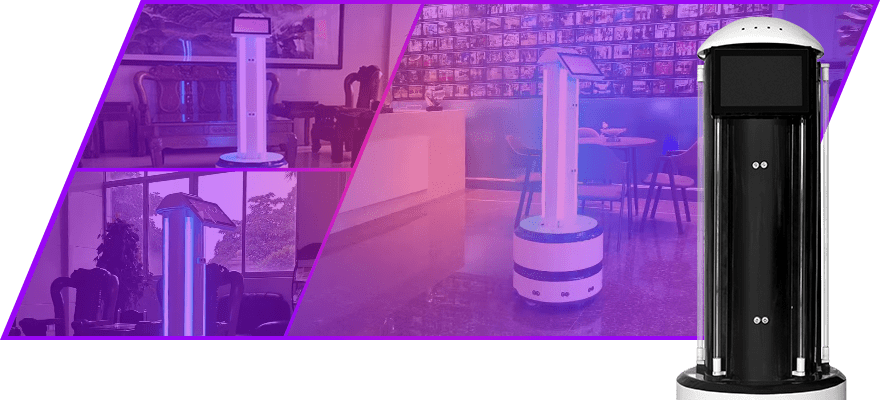 Boost your business with Sam-UV
Leave a request and get more information about this outstanding model!