dean
The service robot

DEAN

Integrated
Full HD Camera

LIDAR Navigation

Non-Slip Rubber
Wheels

Microphones

11" Touch Screen

Ultrasonic Sensors

Speakers

Meet dean
Service robot Dean is a humanoid AI service robot resembling humans both intellectually and behaviorally. It can bring multiple advantages to any business operating in advertising, entertainment, education, healthcare, and other niches.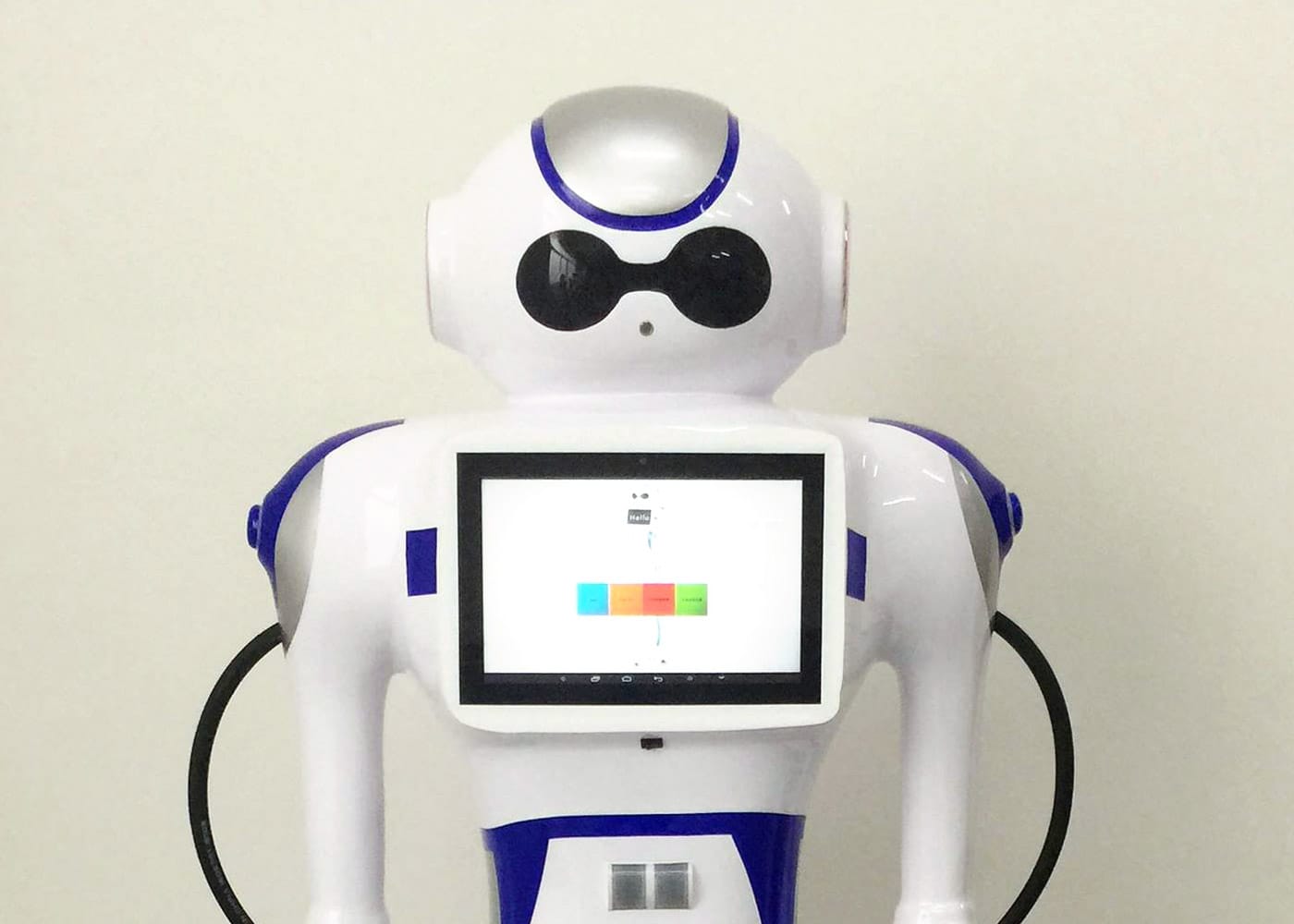 Dean is a fully autonomous service robot and requires practically no management effort. Thanks to elaborate engineering solutions, Dean can carry out complex tasks and solve a range of business problems with great precision. It can appear as a receptionist, entertainer, concierge, guide, or promoter, just to name a few of the roles Dean can perform.
The 11-inch touch screen, integrated full HD camera, and microphones allow Dean to engage in an efficient and purposeful dialogue with the guests. Not only is the interface multilingual, but the robot itself, so using it in tourist areas will eliminate language barriers and improve customer service and satisfaction.
Dean also features sophisticated voice and face recognition systems that have an accuracy of over 98%, allowing personalized, purposeful, and pleasant communication.
Dean's slender body is built of durable plastic with a combination of metallic elements, ensuring the robot's utmost mobility. It is available in different colors and can even be branded for certain events. Weighing under 36 kg. (79,4 lb.), Dean is 1,6 m. (5,25 ft.) tall. At that, the robot is quite flexible and compact. Thus, it doesn't occupy much space but attracts much attention.
Equipped with the advanced LIDAR multisensory navigation system, Dean performs continuous scanning of the area and travels securely through complex paths. Thanks to the high precision sensors, non-slippery noiseless wheels, and significant ground clearance, Dean skillfully maneuvers in the surroundings, without bumping into people or objects.
It takes under 4 hours for Dean to be fully charged, while the battery life is over 7 hours. Once close to zero, Dean will politely take a leave and connect to the charging station to resume where it left off, once fully charged. You may also set charging cycles to adjust the robot's operation to your business needs and to make the most of its power.
Based on Android OS, Dean can easily be integrated with other software and applications. If desired, we can provide API/SDK for secondary development.
With its stunning design, wide functionality, and amazing performance, Dean will bring major gains to your business. But above all, a smart partner like service robot Dean will improve your brand recognition and positively impact your customer engagement.
dean's
specifications
Height / weight
1,6 m / 36 kg
5.25 ft / 79.4 lb
Ground clearance
70 mm
2.75 in
Charging type
Auto / Manual
Battery Life
>7 Hours
Coloring
Any Color Available
Charging time
4 Hours
operating system
Android
Boost your business with Dean
Leave a request and get more information about this outstanding model!