dan
The service robot

DAN

Integrated
Full HD Camera

Microphones

32" Touch Screen

Ultrasonic Sensors

Non-Slip Rubber
Wheels

Speakers

LIDAR Navigation

Meet dan
Service robot Dan is Mirax Robot's one of the latest Android service robot with an impressive appearance and a myriad of exceptional talents. Dan can be assigned a tremendous number of roles, all of which he performs unfailingly and with high precision. And what's most important, Dan is incredibly intelligent and friendly, instantly captivating adults and children alike.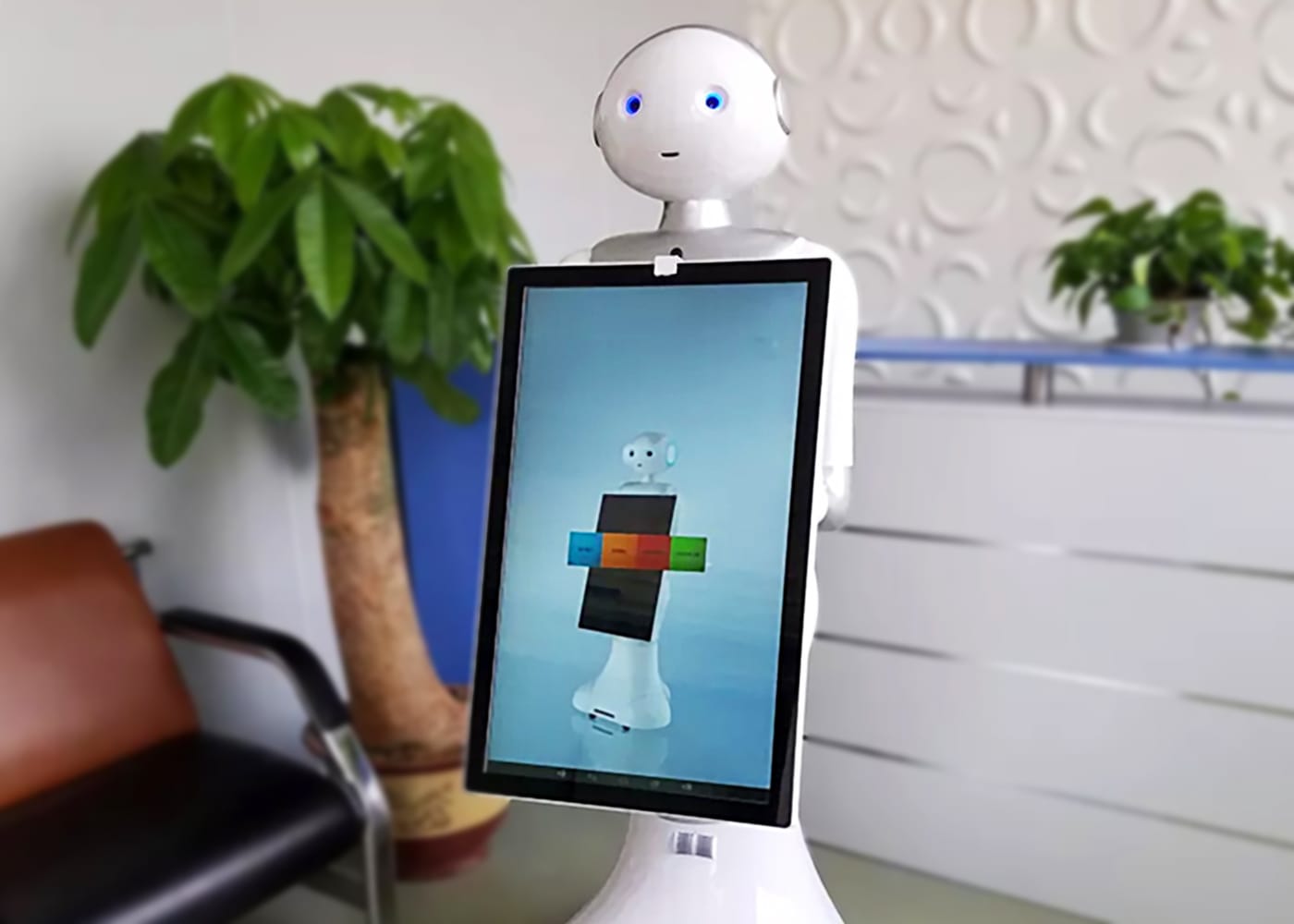 The first thing that catches the eye of Dan's design is the huge 32-inch touch display. It is used for initial settings and for personalization of the robot, which require no technical knowledge. Video tutorials and instructions are provided along with 24/7 technical support from Mirax Robots. Once the settings are done you can start uploading any data into the robot's system to serve your business purposes.
Dan is also equipped with a set of speakers and microphones, so it can spice up the presentation with voice explanations and clarifications. You may also set voice commands, for the robot to accompany the guests to certain destinations. Needless to say, Dan is fitted with highly accurate face and speech recognition systems, making the interaction with the service robot an authentic and pleasurable experience.
Dan's innovative design is reinforced by an extensive life span, which has been possible to achieve through the use of highly resistant materials in manufacturing. To ensure the robot's and the environment's ultimate safety, Dan has been fitted with advanced scanning technology (LIDAR and ultrasonic sensors). Thus, the robot receives real-time data to orient in the ever-changing environment. Non-slipper rubber wheels allow Dan to travel around smoothly and noiselessly.
Dan is also equipped with a powerful battery, allowing it to operate for more than 7 hours. To make the most of the battery, it is better to set automatic charging cycles.
Designed to high industry standards and combining the latest technologies applied in robotics in the present day, Dan can become a valuable asset for any business. It can be used in a great many areas, including healthcare, education, marketing, HoReCa, etc.
To fit your specific business needs Dan can be integrated with any third-party applications compatible with Android OS. Secondary development is possible as well.
Introducing an intelligent robot assistant like Dan will be a strategic decision promising both short- and long-term gains for your business. You can use its robust functionality to rationalize operational processes, while the customers will enjoy their experience with your multifunctional service robot.
dan's
specifications
Height / weight
1,55 m / 48 kg
5.09 ft / 106 lb
Ground clearance
70 mm
2.75 in
Charging type
Auto / Manual
Battery Life
>7 Hours
Coloring
Any Color Available
Charging time
4 Hours
operating system
Android
Boost your business with Dan
Leave a request and get more information about this outstanding model!