ash
The security robot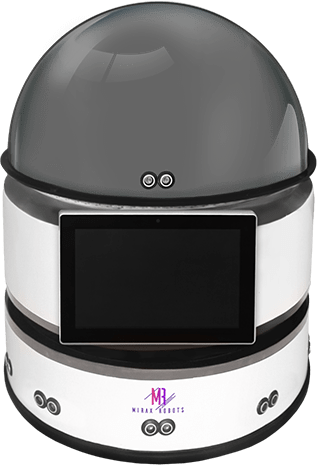 ASH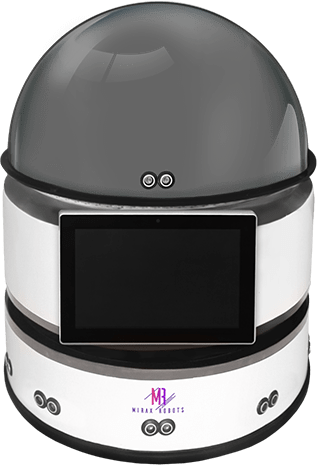 360° Rotated
Security Camera

Integrated
Full HD Camera

11" Touch Screen

LIDAR Navigation

Non-Slip Rubber
Wheels

Ultrasonic Sensors

Meet ash
Security Robot Ash is a great choice for indoor protection, especially for small office spaces, where a compact solution is required. With its minimalistic unpresuming design combined with rich functionality, this little technological machine can ensure the utmost safety of your property and guests.
The agile security robot weighs as little as 32 kg. (70,55 lb.), with a chassis diameter of 0,1 m. x 0,73 m. (0,32 ft. x 2,4 ft.) The robot's miniature dimensions allow for a high degree of flexibility with the possibility to travel between tables, stands, and other objects. One of the perks of this latest technological development is the ability to connect to modern elevators and travel independently up and down the building. Imagine a person's amazement when a robot guard meets him at the door of an elevator. By customizing the settings it is even possible to assign the robot the role of an operator.
Ash is equipped with multiple ultrasonic sensors, located around its diameter. The cutting-edge LIDAR navigation system allows the robot to orient skillfully in space, gliding smoothly on its non-slip high-quality rubber wheels. With the infrared camera, the robot operates confidently under any lighting, even in complete darkness.
The integrated rotating front camera provides a 360-degree view, while the entire footage is stored safely both on a memory card and cloud storage available with just one click.
It is possible to set alarming modes and options. You may want to receive notifications on your mobile device or email in case of detection of movement or set up a loud security alarm when there is any movement.
The 11-inch touch screen can be used to display security or explanatory video content. It can also be used for presentations, screening of tutorials, etc. The interface is user-friendly and multilingual.
Ash is manufactured of highly resistant plastic and metal which ensure its high durability and significant life span. To make the most of its battery life of more than 8 hours, you may set specific charging cycles, for your robot guard to be on duty at any time. Full recharging requires less than 5 hours.
Ash can be a reliable partner when it comes to the protection of your property but it can also be an efficient tool for performing repetitive tasks, making announcements at given moments, as well as keeping your guests safe and why not entertained!
ash's
specifications
Height / weight
68 cm / 32 kg
2.23 ft / 70.55 lb
Chassis diameter
0,1 m / 0,73 m
3.28 / 2.4 ft
Charging type
Auto / Manual
Battery Life
>8 Hours
Uphill movement
Up to 8°
Elevator
Connects and Uses Autonomously
Charging time
5 Hours
Security Alarm
Coloring
Any Color Available
operating system
Android
Night mode
Infrared Camera
Video storage
Memory Card + Cloud Storage
Rotating camera
360° View
Our security robots
hunter
Security robot Hunter is our finest outdoor security model with a wide range of features. He is ready to serve you 24/7 in any weather, day or night.
Meet Hunter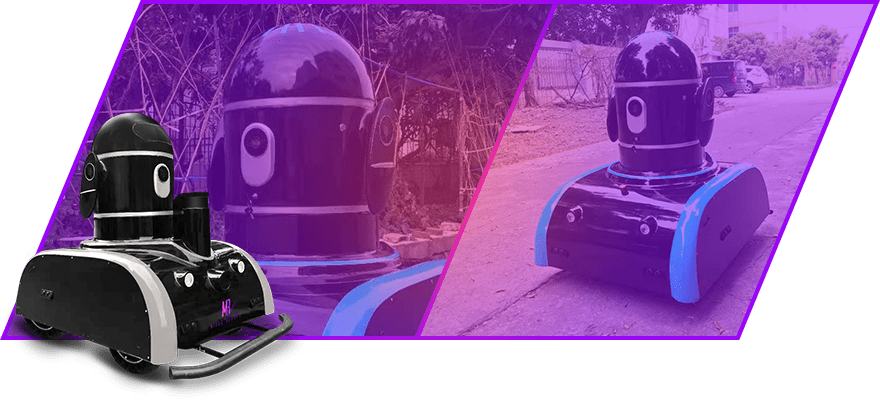 paul
Security robot Paul is an intelligent and autonomous indoor security robot that ensures people's property safety 24/7.
Meet Paul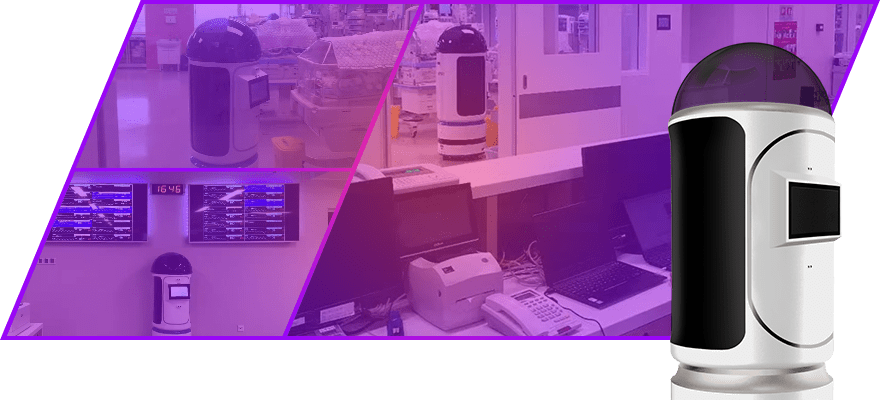 Boost your business with Ash
Leave a request and get more information about this outstanding model!