lea
The restaurant robot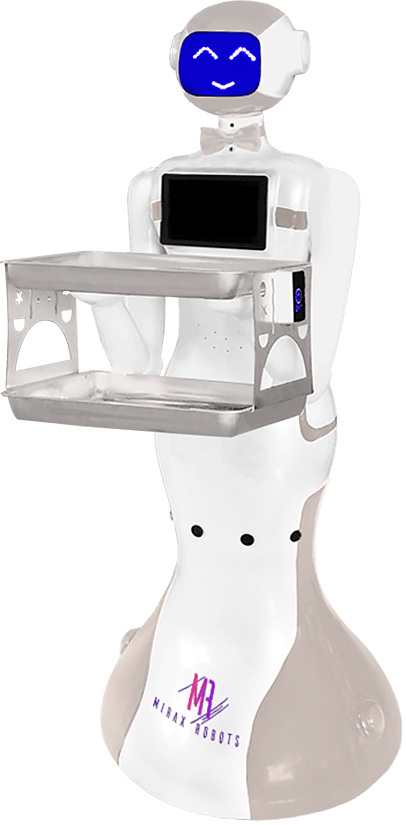 LEA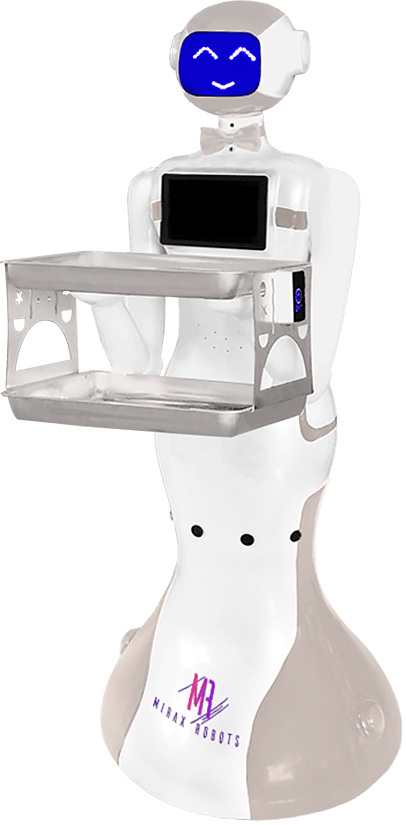 LED Face

Integrated
Full HD Camera

Speakers

LIDAR Navigation

Microphones

11" Touch Screen

2 Trays

Ultrasonic Sensors

Non-Slip Rubber Wheels

Meet lea
Restaurant robot Lea is an eye-catching robot with an attractive near-human appearance. She can be a perfect server not only in restaurants or hotels but in any other area that assumes human interaction, such as office and exhibition centers, showrooms, and other venues.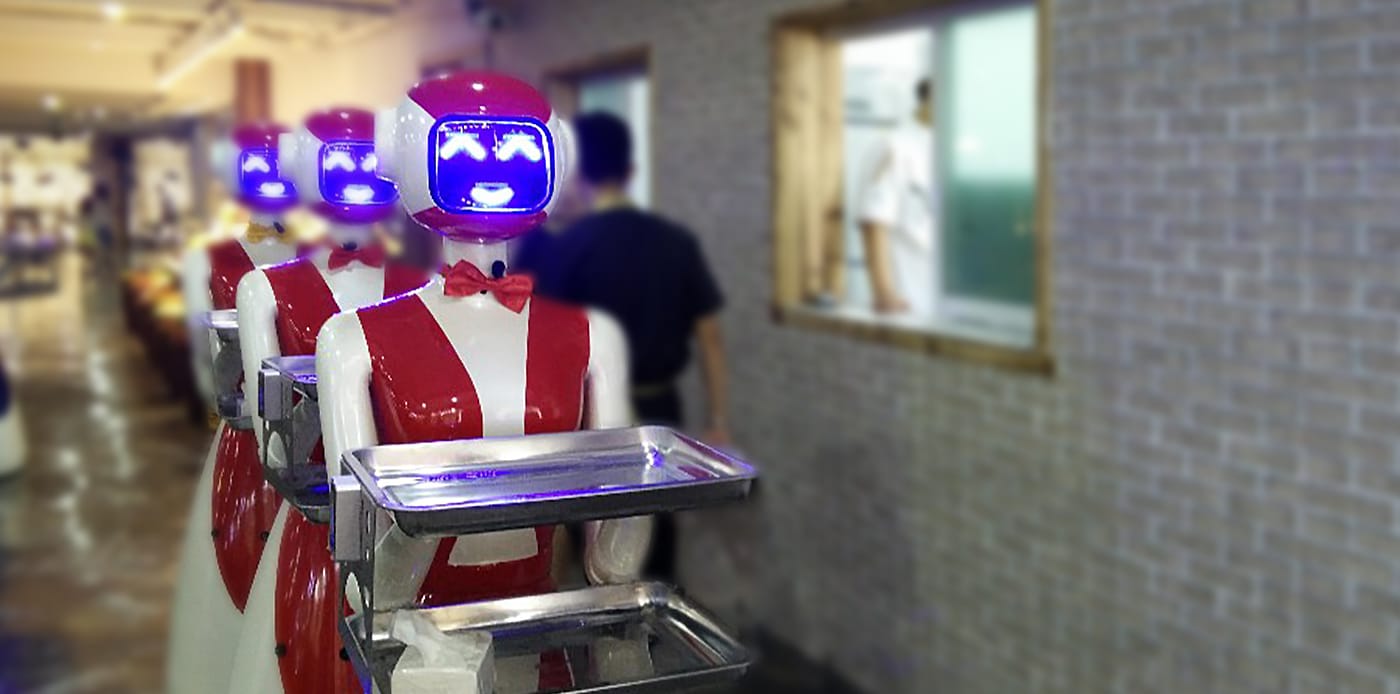 Lea is a highly autonomous and efficient restaurant robot as well as a useful resource for any food service. While her operation requires minimum human control, her functionality is beyond all measure. Maneuvering skillfully in the area, Lea performs a range of duties, taking the guests' fancy with her design and performance.
Restaurant robot Lea, pretty much like all Mirax Robots in this category, is equipped with a face recognition system that allows her to maintain a personalized efficient dialogue with the guests. Over 98% accurate speech recognition feature enables Lea to identify her interlocutors and answer their questions, addressing them personally. A wide range of pre-programmed customizable questions&answers, uploaded by the client, makes the interaction with our restaurant robots a one-of-a-kind experience. On top of all her talents, Lea is a true polyglot, which is a great asset for multinational environments.
Made of high-class durable plastic and metal, Lea is not only physically attractive but also sustainable and wear-resistant.
Weighing as little as 35 kg. (77,2 lb.), Lea is 160 cm. (5,25 ft.) tall, which ensures good visibility from a distance. And what can be more attractive for an undecided customer than a robot waiter moving around graciously with a tray? In fact, Lea is equipped with 2 trays that can hold up to 10 kg of weight each. What's more, its functionality allows you to load both trays and deliver them to 2 tables in sequence, which reduces the service time.
Lea features an 11-inch touch screen through which all the initial settings are done. The screen is also used for the customization of certain features.
The robot's lower body is equally impressive. Featuring a built-in LIDAR advanced navigation system, Lea is capable of building the map of the venue and moving around the place with ease. Setting multiple destinations inside or outside of the restaurant, you may rest assured Lea will deliver all orders safely and without a delay.
Needless to say, the safety of the robots and the environment is a top priority for Mirax. This is particularly important when it comes to working with food and drinks. With this in mind, we have equipped Lea with special laser sensors that perform non-stop scanning of the premises, eliminating all chances of a collision with sudden obstacles.
The LIDAR sensors achieve an accuracy of 2 mm. (0,08 in.) at a range of 25 m. (82 ft.), which guarantees the utmost safety and mobility of the robot. 70 mm. (2,75 in.) ground clearance ensures easy and secure passage through various objects.
Lea's running time is over 7 hours. You may also set working cycles, so that once the order is served, the robot will automatically return to the charger and wait for further instructions, thus saving lots of time and providing uninterrupted service.
Designed on Android, it is compatible with third-party apps. API/SDK is provided for secondary development as well.
Opting for our restaurant robot Lea, you will gain an upper hand in the market and push the industry bar higher.
lea's
specifications
Height / weight
1,6 m / 35 kg
5.25 ft / 77.2 lb
Ground clearance
70 mm
2.75 in
Charging type
Auto / Manual
Battery Life
>7 Hours
Trays
2 pieces
Bearing
20 kg
44.1 lb
Coloring
Any Color Available
Charging time
4 Hours
operating system
Android
Our restaurant robots
daben
Restaurant robot Daben is a magnificent robot with an unforgettable appearance that becomes the center of attention wherever he shows up!
Meet Daben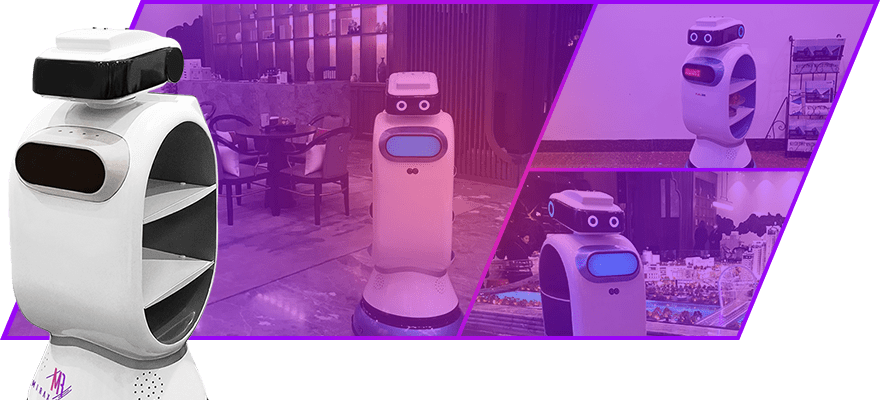 ben
Restaurant robot Ben is an autonomous robot that perfectly fits any business and is ready to assist non-stop in performing a wide range of tasks.
Meet Ben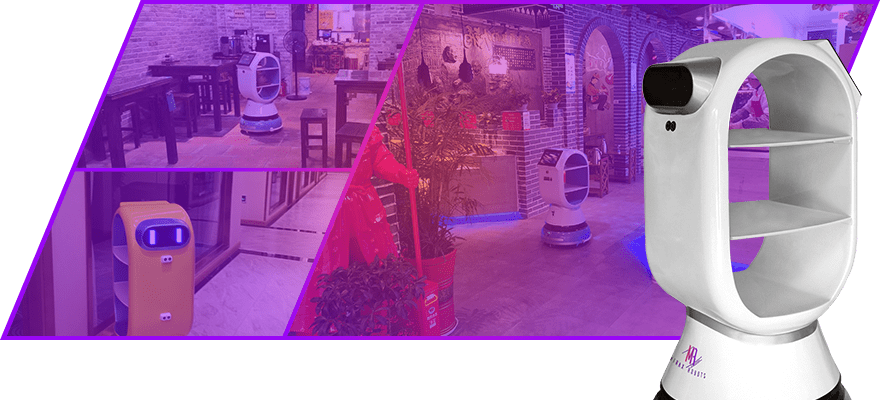 hugo
Restaurant robot Hugo is an intelligent robot that definitely can surprise your visitors and grab 100% of people's attention regardless of age or gender!
Meet Hugo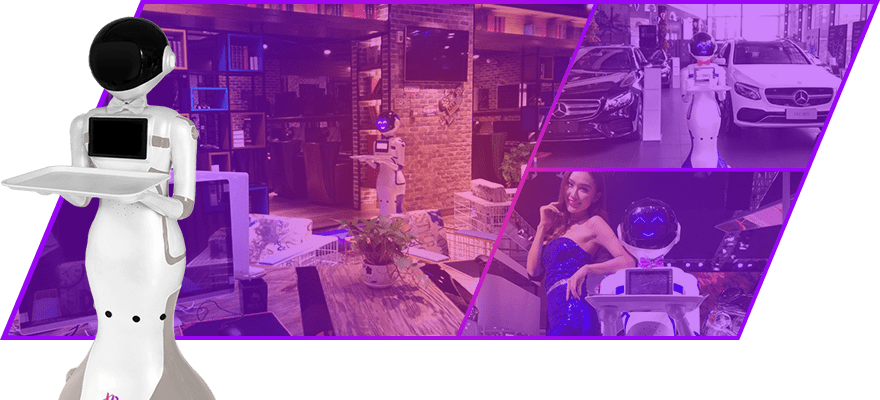 Boost your business with Lea
Leave a request and get more information about this outstanding model!