doc
The service robot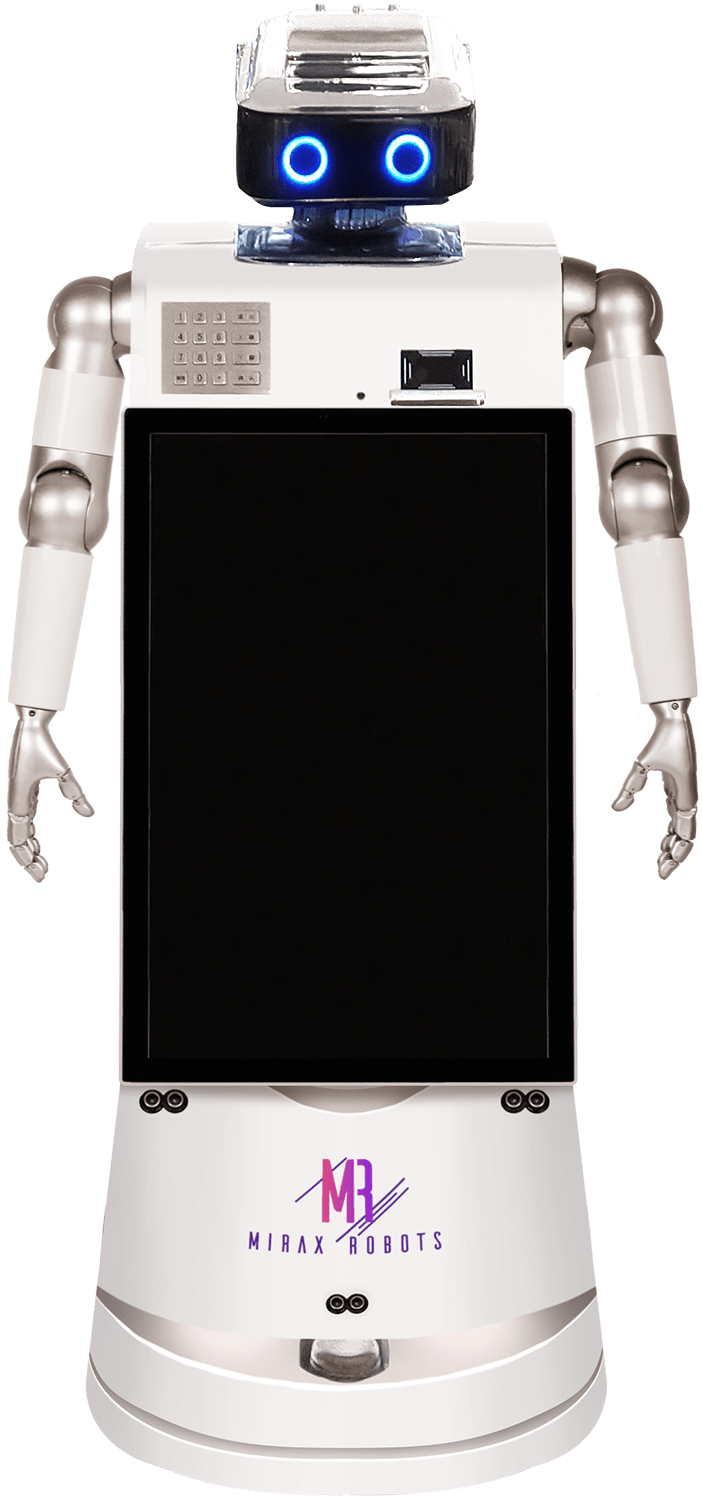 DOC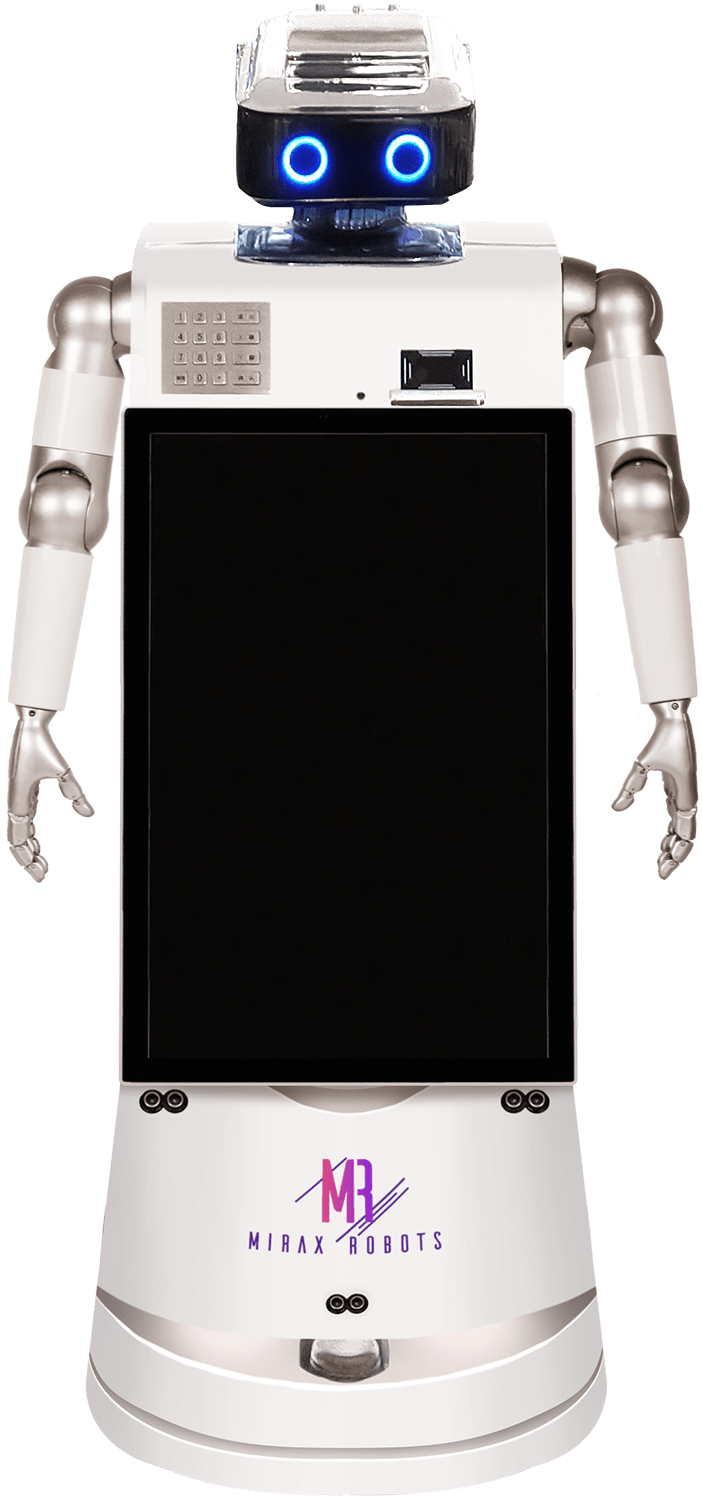 Moving Parts:
Head, Neck

Integrated
Full HD Camera

Moving Parts:
Hands, Fingers

Speakers

LIDAR Navigation

Microphones

POS: CC Reader
& Receipt Printer

Moving Parts:
Shoulders, Elbows

27" Touch Screen

Ultrasonic Sensors

Non-Slip Rubber Wheels

Meet doc
Service robot Doc is Mirax Robots' new development that comes with AI and unforgettable futuristic design. Its spectacular performance and technical specifications can benefit any business and boost sales through interactive and meaningful interaction with consumers.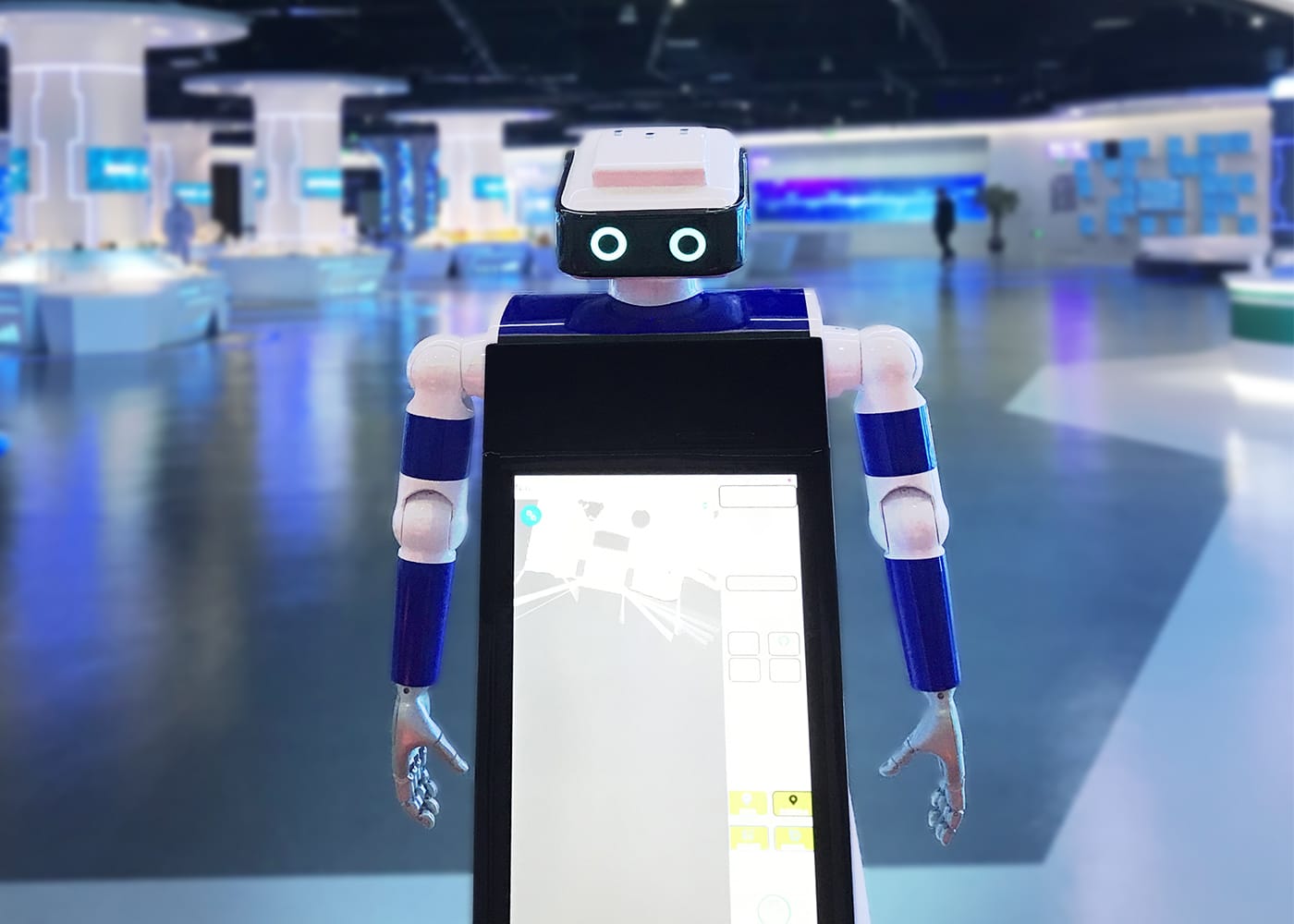 Our service robot Doc is intended for different business areas, such as healthcare, retail, hospitality, entertainment, marketing, etc. Its outstanding appearance is achieved through innovative design, combining high-quality plastic with metal.
The robot can move its head and neck, hands, shoulders, and even fingers, ensuring more human-like manipulation. It also adjusts its movements towards the speaker and gestures in an incredibly natural way. It features a huge full-HD 27-inch touch screen that allows pre-programming of a wide range of tasks and allows customization of certain options.
Doc is a fully autonomous smart service robot that can perform a number of functions at high speed and with utmost consistency and productivity. It can initiate a web search, take photos, play audio and video content of any duration, show people the way and accompany them to their destinations. The integrated POS terminal makes Doc a great asset for sales. It accepts payments and issues receipts, as well as manages the queues, all the while entertaining the people in the line.
The service robot Doc is 160 cm. (5,25 ft.) tall and weighs 50 kg. (110,2 lb.). With its slender body and attractive design, Doc momentarily grabs people's attention and creates a lively atmosphere of curiosity and fascination, taking the fancy of the little ones and adults alike.
Doc's powerful battery allows almost 7 hours of uninterrupted runtime, while full recharging takes less than 4 hours and no human effort, for the robot connects to the charging station automatically. And no vacations or sick leaves! That's the priority of all humanoid robots.
Thanks to the LIDAR technology, Doc navigates securely in the surroundings, identifying and avoiding collisions with walls, doors, people, or objects. Non-slip rotating rubber wheels ensure the robot's safety, while the ground clearance of 70 mm. (2,75 in.) allows Doc to pass through and above various objects. Ultrasonic sensors that feature a range of 25 m. (82 ft.) and an accuracy of 2 mm. (0,08 in.), provide non-stop real-time information about the surroundings and help the robot orient even in crowded environments.
Equipped with advanced face and voice recognition systems, the service robot Doc can engage in a meaningful, personalized, and rewarding conversation with its guests. It memorizes faces, names, and questions and speaks the language of its guests, providing an exceptional experience of interaction.
Running Android OS, Doc works perfectly with third-party applications.
Made to our exceptionally high standards, Doc is undoubtedly the last word in robotics, capable of enhancing brand awareness and business performance.
doc's
specifications
Height / weight
1,6 m / 50 kg
5.25 ft / 110.2 lb
Ground clearance
70 mm
2.75 in
Charging type
Auto / Manual
Battery Life
>9 Hours
Movements
22 Degrees of Freedom
Coloring
Any Color Available
Charging time
4 Hours
operating system
Android
Boost your business with Doc
Leave a request and get more information about this outstanding model!